---
April 11, 2008
According to a recent survey by the Japanese online research company MyVoiceCom the most commonly owned high end brand in Japan is Burberry.14,452 registered members of the managing company My Voice responded to the survey.
An overwhelming number of respondents chose Louis Vuitton as the brand they would most like to receive as a present. 30% of the respondents owned a Burberry product, 25% were Louis Vuitton owners, while Gucci and Coach rounded out the survey with approximately 20% each.
However when it came to receiving luxury goods as a present, respondents were more inclined to receive Louis Vuitton than any other brand, with Hermes coming in a close second with a difference of 4% between the two.
The majority of items owned were hand bags and wallets. More respondents bought their goods at stores specializing in selling high end goods than at discount shops, with approximately the same percentage (30%) buying overseas or receiving their luxury goods as gifts.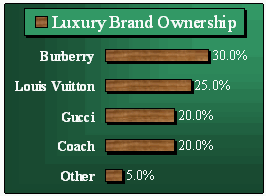 When it came to which brand the respondents would not be happy to receive as a gift, the vast majority responded they wouldn't mind receiving any brand regardless, with no respondents saying they would feel uneasy about receiving a luxury brand as a preset. That being said, 3.8% said they would not want to receive Dunhill, 3.6% didn't want Chanel, and Versace at 3.1%. Fourth place was held by a collective of brands differentiated by a narrow margin, with a total of about 15%.